PUBLISHED:

05.04.2021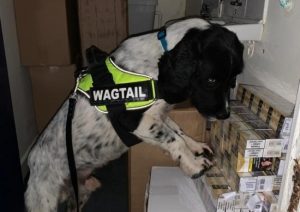 Wagtail sniffer dogs have rooted out tens of thousands of illegal cigarettes in a series of raids across Bury.
Wagtail tobacco detection dog, Birch, joined a team from Bury Council's trading standards and licensing departments and officers from Greater Manchester Police in a day of action on Tuesday 23 March.
They uncovered 78,000 illegal cigarettes and 800g of illegal hand rolling tobacco at one shop in Bury– a stash which had been carefully concealed in secret compartments. Another Wagtail dog helped in the seizure of a further 1,000 illegal cigarettes in shops in Prestwich and Radcliffe. The haul is worth a street value of £39,000.
Angela Lomax, Bury Council's head of public protection, said: "We visited this shop with Birch after receiving intelligence that illegal tobacco was being sold 'under the counter'.
"These detection dogs can find tobacco and cigarettes even when they are hidden in the most unlikely places. We are working with partners across Greater Manchester to drive down the illegal trade and the market is declining but it is still a burden on our communities.
"If you know where cheap tobacco is being sold, often as 'duty free', please get in touch. We will take action wherever and whenever we find illegal tobacco for sale."
The sale of illegal tobacco can be reported anonymously to Crimestoppers on 0800 555 111 or at www.keep-it-out.co.uk