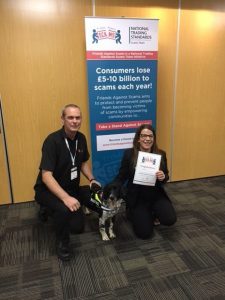 Our illegal tobacco sniffer dog Alfie is now an official SCAMbassador for National Trading Standards Friends Against Scams Team.
Friends Against Scams is a National Trading Standards (NTS) Scams Team initiative, which aims to protect and prevent people from becoming victims of scams by empowering communities to "Take a Stand Against Scams".
Friends Against Scams has been created to tackle the lack of scams awareness by providing information about scams and those who fall victim to them. This information enables communities and organisations to understand scams, talk about scams and cascade messages throughout communities about scams prevention and protection.