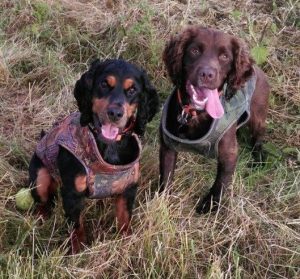 With his head lowered and tail wagging, Rocky the cocker spaniel gives his handler a glance to indicate a find.  Rocky has discovered a great crested newt hidden in a log pile at a proposed construction site.
Rocky is just one of a team of dogs working at Conservation Dogs in North Wales, an international centre for the training of wildlife detection dogs to assist with conservation needs and ecological surveys.  The Company's trained dogs have also been used in international work at airports, border crossings, train stations and road blocks.
Great crested newts are a protected species, and so their disturbance or destruction is illegal. Great crested newts on construction sites should to be trapped and relocated to ponds away from any building work. Conservation Dogs can assist in the locating of great crested newts for removal whilst trapping out, as well as identifying areas where newts might be speeding up the process of safe removal.
Clearing areas of protected and endangered species can be costly and time consuming. Conservation Dogs make this process more efficient and effective.
The dogs have many years of field experience locating scats, carcasses, wildlife and assisting in surveys and species identification. The Company knowledge is unrivalled in this area as is their understanding of the training of conservation detection dogs.  Conservation Dogs has a licence to keep great crested newts and bat carcasses for the purpose of dog training.
Building on this vast experience and knowledge, Conservation Dogs have launched a unique two-day Conservation Detection Dog Taster Session.  Members of the public can come along to Conservation Dogs training centre in North Wales and learn about this exciting field of detection dog training.
Conservation Dogs Trainer Aran Clyne (BSc), shares his knowledge of 6 years worldwide experience training and handling these specialist detection dogs.
'We were receiving a number of enquiries from ecologist and conservationists regarding our work with Conservation Dogs and have developed this two-day taster session to cover the basics for anyone wishing to work with conservation dogs and provide a hands-on experience,' stated Aran.
Whether you are a dog trainer, handler, biologist, ecologist, conservationist or just simply interested in learning more about conservation detection dogs, this two-day taster session is for you.
Full details of the Taster Session, dates and other information can be found here and at Conservation Dogs new website: www.conservationdogs.com