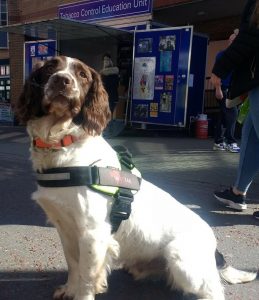 Our Tobacco Control Education Unit was in Birkenhead at the weekend with Trading Standards.
Star sniffer dog Bradley had his nostrils at the ready demonstrating his tobacco-searching skills to shoppers in Birkenhead.  Bradley has worked with Wirral Council trading standards in several successful raids on shops and warehouses to stamp out the sale of illegal tobacco.
Visitors had the opportunity to meet Bradley and learn more about his work as a tobacco detection dog.