PUBLISHED:

24.08.2021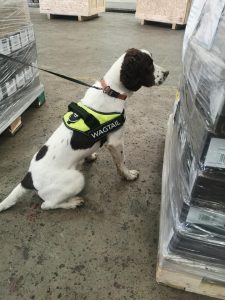 Wagtail were delighted to be invited by West Cheshire & North Wales Chamber of Commerce to attend their networking event at Rowton Hall, Chester today.
Free Running Explosive Detection Dog (FREDD) Ross and his handler attended the event, providing a demonstration of Ross' amazing detection dog skills.
Ross and his handler are one of 9 fully accredited FREDDs teams approved by the Civil Aviation Authority (CAA) and Department for Transport (DfT).
FREDDs screen cargo within the warehouse offering a real time detection capability for screening the cargo for explosives in an operational environment.  The dogs are trained to detect cargo for a range of explosive materials.  Wagtail FREDDs are currently used at international airports across the UK.
For more information on FREDDs please call 01745 561166 or email info@wagtailuk.com