PUBLISHED:

04.06.2020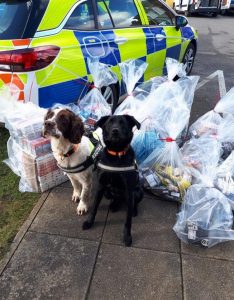 A new NASDU tobacco detection dog handler course has been launched by Wagtail UK Limited.
Wagtail is one of the UK's leading suppliers of detection dogs for UK and international operations.
Wagtail have an outstanding track record and have been providing tobacco detection dog teams to Trading Standards for 10 years and other government agencies in the UK and overseas for the past 8 years.
In the last 4 years alone Wagtail dogs have detected over 120 million illegal cigarettes and over 50 tonnes of illegal hand rolling tobacco!   Along with these staggering figures, Wagtail dogs have also uncovered £3.5 million cash in that time.
Wagtail UK Ltd Managing Director, Collin Singer commented, "Wagtail is a clear market leader in providing tobacco detection dog teams for UK government agencies.   With our vast amount of knowledge and experience, as well as the dog handling techniques required ,Wagtail will offer an extensive insight for all students into current trends and sophisticated concealment methods used by criminals involved with the illegal tobacco industry.  Students will be learning from amongst the best in the industry."
The Level 3 NASDU Tobacco Detection Dog Handler Course will take place at Wagtail's training school.  Wagtail have numerous, realistic training areas, incorporating real-life scenarios they have encountered over the last 10 years to enrich the learning experience.  Wagtail hold substantial amounts of bulk counterfeit and genuine tobacco for the purpose of dog training.
Tobacco detection dogs have become valued members of regulatory service teams in the clamp down on illegal tobacco.   According to HMRC data, up to £1.8 billion was lost in government revenue in 2018-19 due to the trade and supply of illegal tobacco, with £45.2 billion lost since the start of the century.  A dog's keen sense of smell can detect carefully concealed items that would not be revealed by conventional searches.
Counterfeit tobacco is completely unregulated and often contains large amounts of contaminates over and above what is found in legal tobacco items, adding seriously to the health risks.  Fake cigarettes pose an even bigger fire risk than genuine ones as fake cigarettes once lit, may not self-extinguish if not actively smoked.
The impact of the illegal tobacco trade is being felt throughout local communities as the same organised criminals who target vulnerable young people to courier drugs are increasingly supplying and trading in illegal tobacco.
People may be tempted by the cheap price tag and 'pocket money prices', but it's worth considering the great cost to your health, safety and community.  Illegal tobacco supports other criminal activity and has many damaging effects on our local communities, as well as causing poor health.
As well as tobacco, Wagtail's multi-award winning dogs can detect, firearms, explosives, drugs, cash, 'live bodies', products of animal origin including ivory, pangolin scale, great crested newts, bat carcasses, pine marten scat, water vole, bush meat, leopard skin, 'live' animals and more.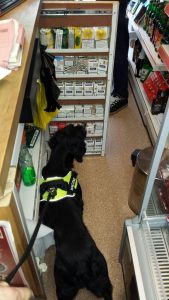 Wagtail UK established its training school, the Wagtail International School of Excellence (WISE), 4 years ago.  The Tobacco Detection Dog Handler course will sit alongside their other courses in Drug Detection and Explosives Detection.
"The development of the training school happened organically.  At Wagtail we have high standards and aim to be the best in the industry.  We wanted pass our knowledge and skills on, maintaining these standards across the profession," explained Collin.
For further information please call 01745 561166 or email info@wagtailuk.com