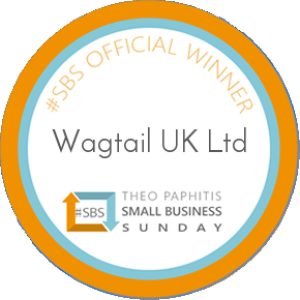 North Wales based Wagtail UK Ltd has received a business boost from Retail Entrepreneur Theo Paphitis.   Collin Singer, Managing Director at Wagtail UK Ltd tweeted Theo about his business during 'Small Business Sunday' and was one of six weekly winners to gain a retweet by Theo to his 500,000 Twitter followers.  The weekly initiative, set up by Theo in 2010, now has 1700 #SBS winners and supports small businesses in the UK.
Business and retail entrepreneur and self-confessed Shopkeeper, Theo re‐tweeted Wagtail UK Ltd's message to his almost 500,000 followers and as a result, www.wagtailuk.com has received a huge amount of new visitor and generated lots of interest their detection dog handler courses.  Wagtail UK Ltd are also profiled on the #SBS website (www.theopaphitissbs.com) that is exclusive to all Small Business Sunday winners.
Collin Singer, Wagtail UK Ltd Managing Director said, "It is great to have support from Theo, recognising our hard work and helping to spread the word about Wagtail UK Ltd to his following."
Wagtail UK Ltd was established in 2003 and provides detection dogs and related services for government agencies such as UK Border Force, HM Revenue & Customs, Police, Trading Standards and Armed Forces.  Wagtail dogs set the standard in the detection of illicit tobacco, cash, firearms, explosives, drugs and conservation work in the UK and overseas.
Over the years, Wagtail have been inundated with enquiries for information on the detection dog industry, training, careers and much more.  Therefore, Wagtail have developed a new one day Experience/Taster Day designed to give people an insight into professional search dog handling.  The support from #SBS has generated huge interest in the new experience/taster days and detection dog handler courses run by Wagtail UK Ltd.
Anyone looking for a retweet from Theo should tweet him about their business on Sunday between 5pm and 7.30pm and include the hashtag #SBS.  Six lucky businesses are re‐tweeted every Monday at 8pm and then invited to enter their profile on the new website, attend the annual #SBS networking event and take advantage of the networking opportunities.