PUBLISHED:

21.11.2019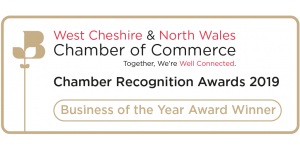 Wagtail UK Ltd has been named as Business of the Year at the West Cheshire and North Wales (WCNW) Chamber Recognition Awards.
The Business of the Year Award, sponsored by Ellis & Co Accountants, is given to a business who can demonstrate a successful track record of excellence and achievement, along with measurable growth, increased trading profit and new product/service development.
Collin Singer, Wagtail UK Ltd Managing Director, commented: "Wagtail UK are extremely proud and honoured to receive the Business of Year award which recognises the hard-work and dedication shown by the team.  Wagtail has come a long way since starting in 2003, and we are always looking to be the best we possibly can."
The Awards ceremony took place on Friday 15 November at Chester Racecourse, and saw 300 guests enjoy a Hollywood themed night that celebrated the success of Chamber Members over the last 12 months.
Wagtail were also announced as finalists for another award: the Export & Trade Award. For this award companies must stand out from the crowd on the international stage and demonstrate that they have generated significant and/or sustained increases in their export activity.
The past few years have seen Wagtail UK go from strength to strength with the formation of sister companies Conservation Dogs and more recently Event Detection Dogs, not to mention the development of Wagtail International School of Excellence training school.