PUBLISHED:

14.05.2019
Flintshire based international detection dog specialists, Wagtail UK Ltd, are proud to announce that their Explosive Detection Dog Handler course has been awarded the Badge of Excellence quality mark by the Institute of Explosives Engineers (IExpE).
IExpE are a membership organisation promoting the highest standards in the explosives industry and ensuring the explosives sector has good quality training and educational opportunities available that meet the needs of employers. The awarding of a Badge of Excellence required Wagtail UK and their explosive course to not only be assured by the IExpE's rigorous quality procedures, but also to be externally recognised to provide excellent training, development and learning provision and meaningful outcomes by a third party.
Wagtail International School of Excellence (WISE), Wagtail's training school, is recognised as an Endorsed Centre, having been externally verified by IExpE to ensure all policies and procedures are in place to ensure safe and effective training. Wagtail are the only detection dog training company to receive Endorsed Centre and Badge of Excellence status.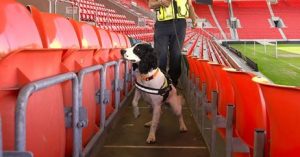 Wagtail UK Ltd was established in 2003 and provides detection dogs and related services for government agencies such as UK Border Force, HM Revenue & Customs, Police, Trading Standards and Armed Forces. Wagtail's reputation and success lead to the development of Wagtail International School of Excellence and a suite of externally accredited detection dog handler training courses.
Collin Singer, Managing Director at Wagtail UK Ltd commented: 'Wagtail are delighted our explosive course has received the Badge of Excellence quality mark from IExpE. This emphasises the consistently high standards we strive to maintain at Wagtail UK and our philosophy to deliver quality without compromise.'
The Badge of Excellence demonstrates to those considering an explosive detection dog handler course that Wagtail's course content has been technically vetted by the professional body for the sector and the quality of training and assessment has been externally assessed.
We are currently offering a 20% discount on our Explosives Detection Dog Handler Courses.  Full details of this course, along with dates and other information can be found here.