Wagtail UK Ltd is one of the UK's leading suppliers of detection dogs for the UK and international operations. We hold a Home Office licence to store drug scents and explosive scents for the purposes of detection dog training.
Explosive and bomb detection dogs
Passive drug and narcotic detection dogs
Proactive drug detection dogs
Tobacco and counterfeit tobacco detection dogs
Cash detection dogs
Body detection dogs (illegal immigrants)
Cadaver detection dogs
Protection dogs
Search and rescue dogs (including confined space and urban disaster dogs)
Arson detection dogs
Products of animal origin (including ivory, pangolin, ivory, scull, shark fin, bush meat)
Scat detection dogs
Carcass detection dogs (to detect protected animals, including bats)
Trained / part trained dogs
Explosives
Drugs
Cash
Tobacco
Illegal meat
Products of animal origins
'Live' animals (exotic pets)
Ivory
Pangolin
Lion skull
Shark fin
. . . and more
TOBACCO DETECTION DOGS
Illicit tobacco is one of the world's most illegally trafficked goods.  Wagtail provides tobacco and cash detection dog teams exclusively for government agencies.

Wagtail have an outstanding track record and have been providing tobacco detection dog teams to Trading Standards for 12 years and other government agencies in the UK and overseas for the past 10 years.  Wagtail UK are proud to be Chartered Trading Standards Institute (CTSI) Corporate Affiliate Members.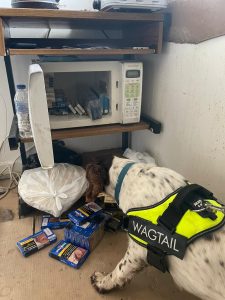 In the last 5 years alone Wagtail dogs have detected over 123 million illegal cigarettes and over 55 tonnes of illegal hand rolling tobacco! Along with these staggering figures, Wagtail dogs have also uncovered £4.5 million cash in that time.
Since 2014, Wagtail has been the exclusive provider of tobacco detection dogs for an overseas agency, providing dogs, handler training and re-teams.
ADVANTAGES OF TOBACCO DETECTION DOGS:
Very accurate, more efficient method of search than human search teams
Cost effective, value for money
Support for enforcement officers and existing search teams
An aid to intelligence gathering
Disrupt known and potential target suppliers/distributors
Excellent deterrent
Only viable method of searching shipping containers and self-storage
AREAS WHERE DOGS CAN BE DEPLOYED:
Shops
Private dwellings
Warehouse/business premises
Lock ups
Self store establishments
Vehicles – including up to HGV
Freight/baggage
WANT TO KNOW MORE?
If you'd like to find out more about our detection dogs please get in touch with us or call on 01745 561166.